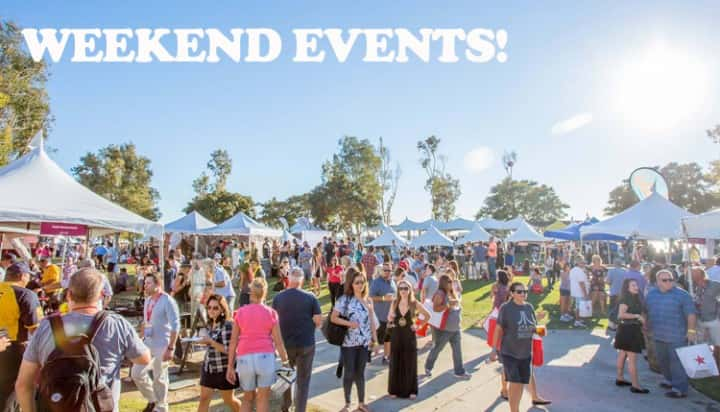 CHEER ON THE SUSAN G. KOMEN 3-DAY PARTICIPANTS- FRIDAY, NOVEMBER 17th 
Your Susan G. Komen 3‑Day® journey will begin with an inspiring, emotional Opening Ceremony. You'll walk through gorgeous oceanside neighborhoods and beautiful parks, and spend two fun-filled nights at our Komen 3‑Day camp, bonding with your fellow walkers. It all culminates in a celebratory Closing Ceremony.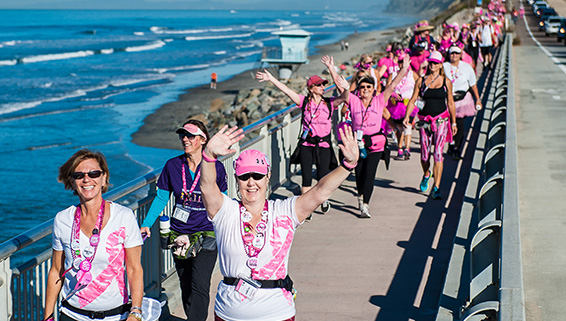 See the powerful ladies decked out in PINK, supporting and raising money all along San Diego! Be sure to cheer them on.
Harland Williams, Comedy Show at The American Comedy Company Friday, November 18th
Comedian and actor Harland Williams is known the world over for his hilarious movie roles and outlandish stand-up and sketch comedy routines. He is beloved by audiences worldwide for his unforgettable roles in films such as Dumb and Dumber, Something about Mary, Half Baked, Rocketman, Sorority Boys, Down Periscope, and so many more.
Harland has been described as a scene-stealing actor whose unique portrayals of his characters keep them etched in the minds of filmgoers everywhere. Add to this his incredible stand-up comedy routines, which have been seen on Letterman, The Tonight Show, Conan O'Brien, HBO, Comedy Central, and everywhere else.
Described as sharp, witty, unpredictable and original, Harland is the true master of joke-telling and crowd interaction. His improvisational skills led to him winning the award for best improviser on NBC's prime time series, Thank God You Are Here(available on YouTube).
Harland Williams is the rare comic artist who has managed to master both stand-up and sketch comedy and combine them both masterfully into his shows. Fresh, funny and always full of the unexpected, Harland's incredible shows are not to be missed.
LEXUS GRAND TASTING- SATURDAY, NOVEMBER 18TH 
The star-studded grand event of the San Diego Bay Wine + Food Festival® is almost here! Tomorrow at the Lexus Grand Tasting, take in the views of the San Diego Bay while enjoying over 150 wineries, breweries, and spirits from around the world, 60 local restaurants plus dozens of gourmet food companies, and much more!
The 13th annual San Diego Bay Wine + Food Festival is the largest wine and food festival in Southern California, and takes place November 14-20
The food and wine classic takes place in various locations throughout San Diego, and features over 40 luxury wine and food experiences throughout the week
Over 200 wineries, breweries and spirit companies, 70 of San Diego's top fine dining restaurants and 30 gourmet food companies will participate in the San Diego Bay Wine + Food Festival
Location
Embarcadero Marina Park North
500 Kettner Blvd, San Diego, CA 92101
DAY BREAK at DEL MAR RACING
Enjoy morning workouts and breakfast in the Clubhouse Terrace Restaurant on Saturdays, November 12 to December 3. Visitors will be able to view morning workouts, dine in the open air restaurant and pick up behind the scenes tips from Jeff Bloom, former jockey and event announcer. Bloom keeps fans informed of notable workers on the track, various racing information and answers questions.
Stay for the day and enjoy REGGAE FEST  plus a free concert.  Need a ticket? Download the FREE ticket below.
Pizzapalooza
Featuring Battle of the Bartenders
Date: Sunday, November 20, 2016
Time: 11:00 am to 2:00 pm
Location: Broadway Pier & Pavilion
Attire: Casual
Deep Dish, New York, Neapolitan, Sicilian, Grilled, Californian, Detroit, etc. One thing we know, is that people are passionate about their pizza, with regional preferences staking claim on just what makes the best darn pie. San Diego is no exception with dough slingers and master pie crafters taking very seriously this staple that works equally as well for breakfast as it does when leaving the bar at 2:00 a.m. Take in multiple tasting stations from San Diego's top pizza makers, hit up incredible mixology and craft cocktail stations, vote during the Battle of the Bartender competition, and listen to music. Tickets still available! 
Comments
comments

Tags: