Cooking Light Magazine and The San Diego Bay Wine and Food Festival hosted a master class with Chef Anna Bullett highlighting Recipes with Roots- Holiday Favorites Simmered in Tradition!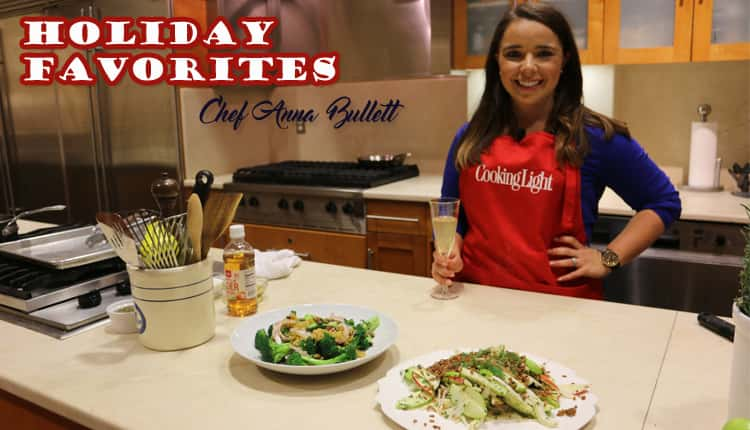 We loved this entertaining fun class as Chef Anna's sweet personality and skills in the kitchen filled the kitchen classroom at the Macy's in Mission Valley Culinary Art Center with laughter, smiles, and a very happy belly.   She introduced elegant fancy cooking styles that will wow your guest but you can execute and prep today before to prevent any last minute Thanksgiving stress!
SHERRY- CAVA CITRUS FIZZ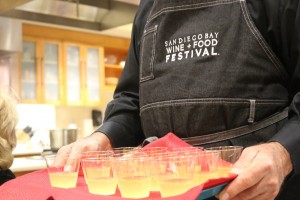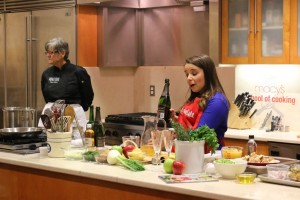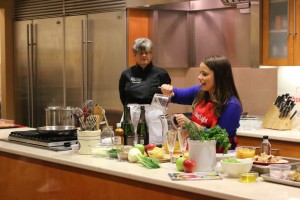 1 1/4 cups Lustau Palo Cortado Peninsula sherry or Lustau Don Nuno dry oloroso sherry
2 tablespoons lemon juice
2 (750-milliliter) bottles chilled Spanish brut (dry) cava or other sparkling wine
PREP
1. Remove rind from orange using a vegetable peeler, avoiding white pith. Place rind and sugar in a medium bowl; pound rind and sugar together using a muddler or wooden spoon until rind releases its oils. Cover and let stand at room temperature 2 to 4 hours.
2. Add hot water to rind mixture, stirring to dissolve sugar. Strain through a sieve into a pitcher; discard rind. Stir in sherry and juice; gently stir in cava.
SHAVED APPLE AND FENNEL SALAD WITH CRUNCHY SPELT
-MAX FM STAFF FAVORITE *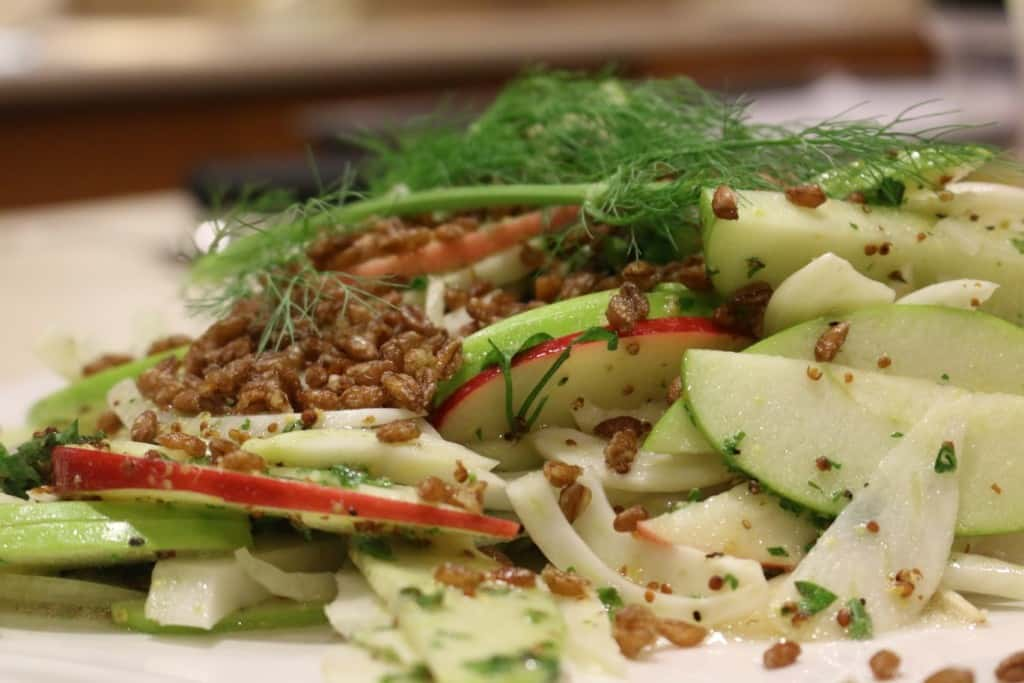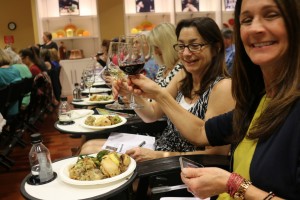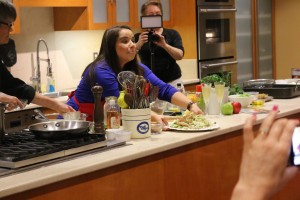 3 tablespoons canola oil
2 tablespoons cider vinegar
1 1/2 teaspoons sugar
1 1/2 teaspoons whole-grain Dijon mustard
3/8 teaspoon kosher salt
1/4 teaspoon freshly ground black pepper
1 fennel bulb, halved and cored
1 small green apple, quartered and cored
1 small red apple, quartered and cored
1 cup fresh flat-leaf parsley leaves
PREP
1. Combine first 6 ingre­dients in a large bowl, stirring well with a whisk.
2. Cut fennel and applesinto 1/16-inch slices using a mandoline. Add fennel, apples, parsley leaves, and Crunchy Fried Spelt to vinaigrette; toss well to combine.
SAUSAGE AND CHESTNUT DRESSING
Fun Fact: Dressing is the stuffing when its not stuffed in the turkey to cook.  Great way to keep your bird moist and make sure everything is fully cooked.. maybe common knowledge but I had NO idea!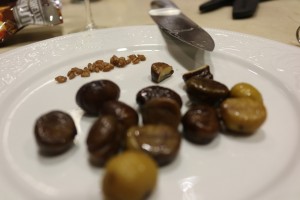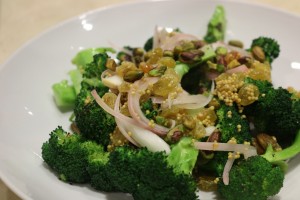 12 ounces French bread loaf, cut into 1-inch cubes
1 cup chopped green bell pepper
8 ounces turkey breakfast sausage links (such as Jennie-O), casings removed
1 cup whole roasted chestnuts, quartered
2 cups unsalted chicken stock (such as Swanson)
1/3 cup chopped fresh flat-leaf parsley, divided
2 tablespoons fresh thyme leaves
3/4 teaspoon freshly ground black pepper
Cooking spray


PREP 
1. Preheat oven to 350°.

2. Arrange bread in a single layer on a large jelly-roll pan. Bake at 350° for 15 minutes or until crisp and toasted. Remove pan from oven; cool bread cubes.
3. Increase oven temperature to 375°.
4. Heat a large skillet over medium-high heat. Add oil to pan; swirl to coat. Add onion, celery, and bell pepper; sauté 5 minutes. Add sausage; cook 5 minutes or until sausage is done, stirring to crumble. Stir in chestnuts. Remove pan from heat; cool slightly.
5. Combine stock, 1/4 cup parsley, thyme, pepper, salt, and eggs in a large bowl, stirring with a whisk. Add bread to stock mixture; toss to combine. Let stand 5 minutes or until bread absorbs most of liquid, stirring occasionally. Stir in sausage mixture. Spoon dressing into a 2-quart glass or ceramic baking dish coated with cooking spray. Bake at 375° for 35 minutes or until top is lightly browned. Remove pan from oven; sprinkle with remaining 1 tablespoon parsley.
SAGE AND GARLIC-RUBBED CORNISH HENS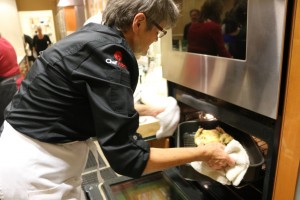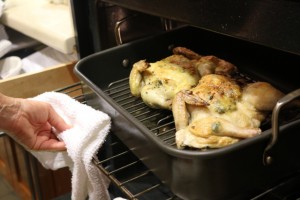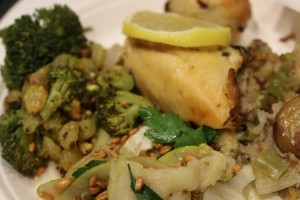 12 fresh sage leaves, finely chopped
1 tablespoon grated lemon rind
2 Cornish hens (about 2 2/3 pounds total), butterflied and backbone removed
2 lemons, halved and seeded
PREP
1. Preheat oven to 425°. Place a wire rack in a roasting pan or on a heavy-duty baking sheet.
2. Smash garlic cloves with the back of your knife; then, with the flat side of your knife, press them to grind to a fine paste with the sugar and salt against the cutting board.
3. Combine garlic mixture, chopped sage, rind, and oil in a small bowl.
4. Pat hens dry with paper towels. Rub garlic mixture under skins.
5. Place hens on rack; roast at 425° for 30 minutes or until a thermometer inserted into thickest part of thigh registers 160°.
6. Remove hens; let stand 5 minutes. Remove and discard skin. Split hens along breast plate. Serve with lemons.
Get to Know:  Chef Anna Bullett
Maine-based Culinary Nutrition Consultant. Mama. Auntie. Craftsy.com instructor. One-half of Lilac & Chive. Have knives, will travel.
Instagram: @AnnaBullett Facebook: https://www.facebook.com/ChefAnnaBullett
Recipes: Cooking Light Magazine and My Recipes.Com
MORE PHOTOS BELOW
Comments
comments

Tags: