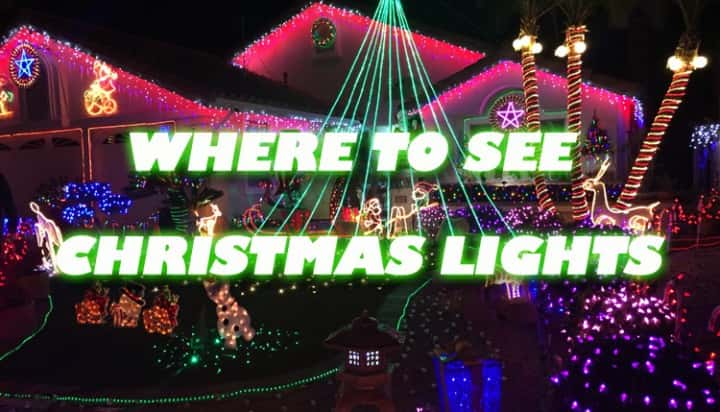 CARMEL MOUNTAIN RANCH
Fairway Village Stoney Gate Place 92128
80 homes decorated  Dec. 10-Jan.1, 5:30-10:30 pm.
POWAY 
Candy Cane Court  Hickory Court, Hickory Street,  Rockrose Court
All off Twin Peaks Rd. & Silverset St.  Entire cul-de-sacs are lit up. Dec. 10-24, 6-9 pm.
OCEANSIDE
2329 Snead Drive
Lights, lights, lights, Santa arrives by hot air balloon, nativity scene, animated elves and Santa village light display.
Walk up to see a Christmas scene in the garage. Dec. 5-31, 5:30-9 pm.
RANCHO PEÑASQUITOS,
Oviedo Street off Black Mountain Road 
Christmas Card Lane Also enter off Twin Trails Dr. & Carmel Mountain Rd. Dec. 9-31, dusk-10 pm.
SAN MARCOS
1639 Knob Hill off of Nordahl Road 
Between Tam O' Shanter Dr. & Augusta Dr.; 29th year of decorating. 100,000+ lights plus themed displays.
Nov. 24-Dec. 30, 5-9 pm. See Santa Dec. 14-23, 6:30-8 pm. www.ChristmasOnKnobHill.com
EL CAJON
Pepper Drive Lights  and Jungle Bell Hill
Solomon Ave./Pegeen Pl. and surrounding area. Off 67 & Bradley. Dec. 7-26, Mon-Th, 6-9 pm, Fri-Sun, 6-10 pm.
LAKESIDE
9773 Roe Drive 
27,000 Christmas lights dance to 10 songs over 128 computer channels. Food Bank and St. Jude donations accepted. Dec. 3-Jan. 2. Sun-Th, 6-10 pm and Fri & Sat, 6-11 pm.www.DBChristmas.com
CHULA VISTA
Whitney St./Mankato
Circle between First and Second Ave. off H St. & 1st Ave. "Christmas Circle." 59th year of decorating 55+ homes. Dec. 10-26, 5-10 pm.
CLAIREMONT
Lana Dr. & Jamar
Off Mt. Abernathy Ave "Clairemont Christmas Park". 40+ homes decorated. Dec. 1-24.
POINT LOMA
Garrison St. & Chatsworth Off Rosecrans. "Garrison Street Lights". Dec. 1-31. dusk-10 pm.
Comments
comments

Tags: