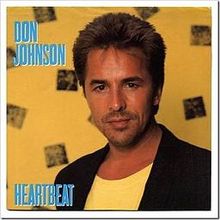 It's a Throwback Thursday, featuring 1986!
In the neon light of news about a "Miami Vice" reboot on the Art Deco horizon (click here to read more about that) …let's throwback to actor Don Johnson's epic foray into music.
At the time, we loved him as Sonny Crockett in the 80s crime drama Miami Vice. Nobody rocked pastels like Crockett!
"Heartbeat" is a 1986 song by Don Johnson. It was released as a single and included on the album of the same name. It became an international hit. I will go off the 80s Deep End and play it at 5:40, and give away Molly Ringwalds concert tickets!
Film and TV stars making music videos was a thing in the 80s, and resulted in some unintentionally hilarious videos.
Check out this 1986 gem from the one and only Don Johnson!
Revel in the 80s glory of Don expressing his emotions!

Comments
comments

Tags: