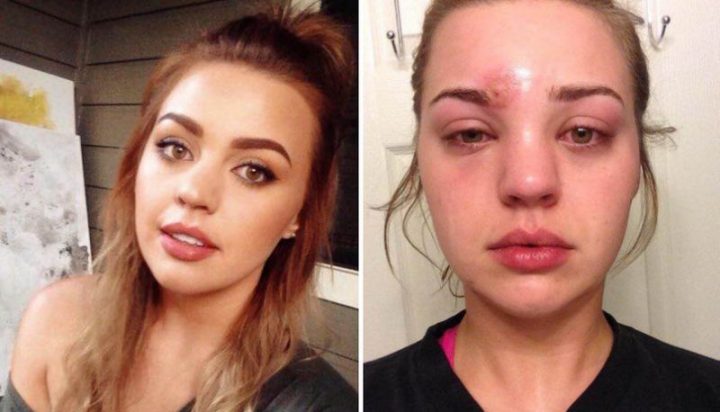 You don't have to know what cellulitis is to guess that you most definitely do not want it.
A woman named Katie Wright, of Austin, Tex., got cellulitis infection, just because she didn't wash her makeup brushes enough.
When Wright discovered a painful pimple above her eyebrow, she did what so many of us (wisely or unwisely) do in that situation: She popped it.
But instead of being a little sore afterwards, her "entire face swelled up" within the hour and she felt like "something was going to burst out of my skin." Sensibly, she took herself straight to a hospital.
The doctors said she had a very serious case of cellulitis, a type of staph infection that can spread to other parts of the body, such as the blood, muscle, and bone, and can become life-threatening if not treated quickly.
"Since it was on my face, there was a huge risk of it spreading to my brain or to my eyes causing me to go blind," Wright wrote.
Now that it's finally healing and her face is going "back to normal," she has shared her story online to urge other people to clean their makeup brushes regularly — all of them.
"This most likely happened from bacteria getting on my eyebrow pencil brush," she said. "I'm super strict on washing my face/beauty blender/brushes, but I never ever thought to disinfect my eyebrow spooly [sic]. If you wear makeup PLEASE make that a step in your cleaning routine! It's a small thing to do to avoid a painful, expensive and traumatizing infection on your face."
She shared the message along with photos of herself taken 48 hours apart — before and after the infection took its hold.
Comments
comments