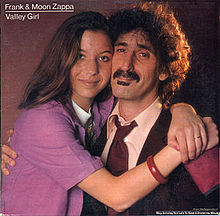 So, like, I'm like, freaking out because it's a Throwback Thursday featuring 1982, and like, I was called a Val too in 1982.
I do not talk funny! A am sure. OK, like, maybe I sounded like a Val, but I grew up just east of the 5 freeway, so like, that was bitchin' back then.
I'm going to play this song at 5:40 and, like, if you can name it you'll win tickets to the San Diego International Auto Show!
Barf me out!
Watch: Valley Girl by Frank Zappa and Moon Zappa

Grody.
Comments
comments

Tags: