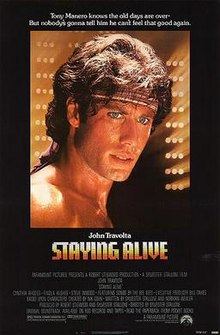 Happy Throwback Thursday!
I'm going off the 1983 Deep End with a "One Hit Wonder."
This song by Frank Stallone appeared in the movie "Staying Alive," and also on the soundtrack.
Yes, Frank is Sylvester Stallone's younger brother.
On a personal note, this song reminds me of being at a house party on Mt. Soledad with a guy named Raed blasting this on MTV and yelling, "Frank Stallone! Frank Stallone!" like it was the greatest song ever in the history of songs (quite like the "Sister Christian" scene in Boogie Nights) and I've never been able to unsee that.
Watch the epic video and revel in the glory of John Travolta as dancer Tony Manero:

Name this tune at 5:40 and win San Diego Gulls tickets!
Comments
comments

Tags: