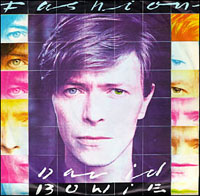 "Fashion" is the second single from David Bowie's 1980 album Scary Monsters (And Super Creeps).
"Hawksmoor" by Pete Ackyroyd is the first book in the David Bowie Book Club, started by Bowie's son Duncan Jones.
The song blasts 80s fashion, or fascism and conformity.
The book explores the occult, or mysticism and mystery in famed London churches.
The video is set in the famous New York City "rock disco" Hurrah.
In the book, there is a time shift from the 18th century to the 1980s.
In some fashion that is beyond my perception, they are connected.
Comments
comments

Tags: