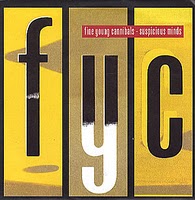 Happy Throwback Thursday!
Fine Young Cannibals released their debut album in 1985.
Singer Roland Gift has said that Elvis came to him in a dream and told him he would record the greatest version of Suspicious Minds ever.
Was he right?
The video pays homage to Elvis with its use of monochrome filming, and shiny suits in the second half.
Colorization kicks in at 2:37.
I'll play this song at 5:40.
Name it and win Ready Player One movie tickets!

Thank you. Thank you very much.
And hand me that deep-fried peanut butter and banana sandwich.
Comments
comments

Tags: