"Michael Jackson and Bubbles" is a gilded porcelain sculpture by American artist Jeff Koons.
Michael supported the project, created in 1988.
Koons has said it's a nod to the ancient world and Michael is the modern Apollo.
I've seen the artist's proof at The Broad Museum in Downtown LA.
My sister took this photo at the Met Breuer in NYC.
She was excited about it. It scared me.
How does it make you feel?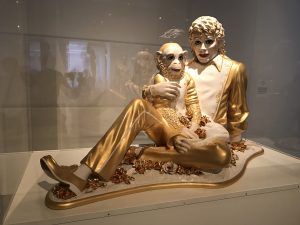 Comments
comments

Tags: