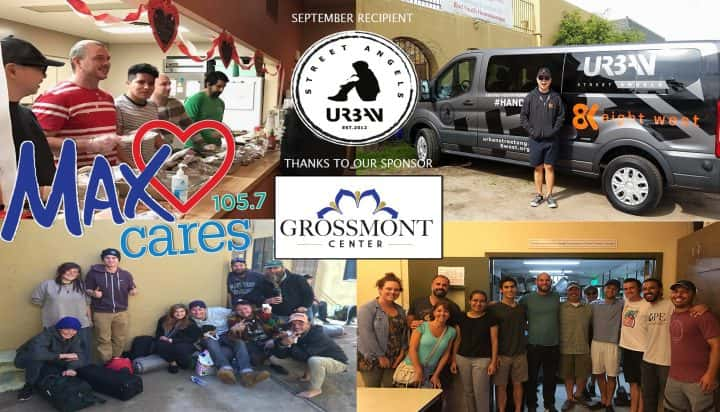 San Diego is an incredible place to live…we all know that. That's because we all work together to take care of this community and each other. As part of that commitment, each month 105-7 MAX-FM will be featuring a local charity that contributes to making this America's Finest City.
We call it MAX CARES – Taking Care of San Diego Together. And we'd like your help!
This month's featured organization is Urban Street Angels.
Founded in 2012, Urban Street Angels is a 501(c)(3) non-profit organization with a mission to end youth homelessness in the San Diego area. They operate a weekly emergency overnight shelter for 20-25 homeless youth, and the shelter program provides nourishing meals, a warm, dry place to spend the night, access to showers and minor medical care, and an array of related services for San Diego's homeless youth.
In addition to addressing the immediate needs of San Diego's homeless youth through our shelter and outreach program, many of the shelter guests go on to join supportive housing and job training programs (through 8 West, our social enterprise), where they receive the support and training necessary to leave the streets behind for good.
Click Below to Make a Donation!

Video Playback Not Supported
VIDEO: JJ visits with Founder and Executive Director Eric Lovett of Urban Street Angels to find out how the organization is helping homeless San Diego youth find a better life.
NOMINATE A NON-PROFIT
Do you know of a non-profit that would greatly benefit from being a MAX Cares Recipient for one month? Please send nominations to Jenny Rose Gonzalez at jennyrose@bcardio.com.

Video Playback Not Supported <iframe class='wpb_videoplayer video-single-player-iframe' allowfullscreen scrolling='no' width='600′ height='330′ frameborder='0′ src='https://www.1057max.com/wp-content/plugins/wpb-video/wpb-video-embed/wpb-video-embed.php?blogid=169&id=99378&flag_call=singleVideo&playerid=FVfxFvY&player_slug=&chkFlagFrom=meta_insert_video'></iframe> JJ chats with Deacon Jim Vargas, President & CEO of Father Joe's Villages, about the organization, its mission, and how you can help San
Continue Reading »
Comments
comments

Tags: