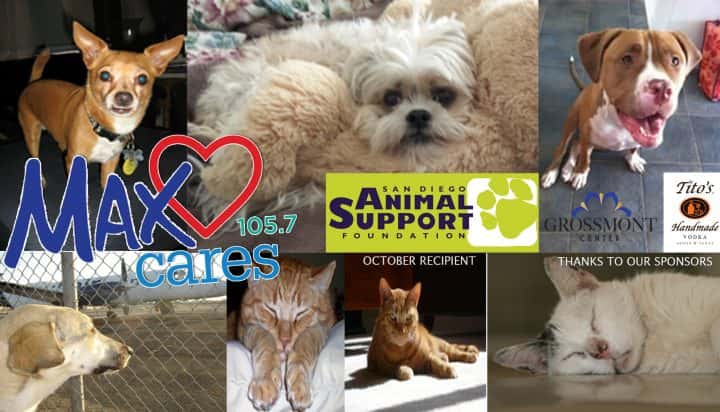 San Diego is an incredible place to live…we all know that. That's because we all work together to take care of this community and each other. As part of that commitment, each month 105-7 MAX-FM will be featuring a local charity that contributes to making this America's Finest City.
We call it MAX CARES – Taking Care of San Diego Together. And we'd like your help!
This month's featured organization is the San Diego Animal Support Foundation.
For more information, contact the San Diego Animal Support Foundation at Info@SDShelters.org, sdshelters.org or 619-847-8755.
The San Diego Animal Support Foundation is a private, volunteer dependent, nonprofit (501c3) organization dedicated to improving the welfare of animals in overburdened, underfunded local shelters and rescue.
Click Below to Make a Donation!

NOMINATE A NON-PROFIT
Do you know of a non-profit that would greatly benefit from being a MAX Cares Recipient for one month? Please send nominations to Jenny Rose Gonzalez at jennyrose@bcardio.com.

Video Playback Not Supported <iframe class='wpb_videoplayer video-single-player-iframe' allowfullscreen scrolling='no' width='600′ height='330′ frameborder='0′ src='https://www.1057max.com/wp-content/plugins/wpb-video/wpb-video-embed/wpb-video-embed.php?blogid=&id=99378&flag_call=singleVideo&playerid=FVfxFvY&player_slug=&chkFlagFrom=meta_insert_video'></iframe> JJ chats with Deacon Jim Vargas, President & CEO of Father Joe's Villages, about the organization, its mission, and how you can help San
Continue Reading »
Comments
comments

Tags: