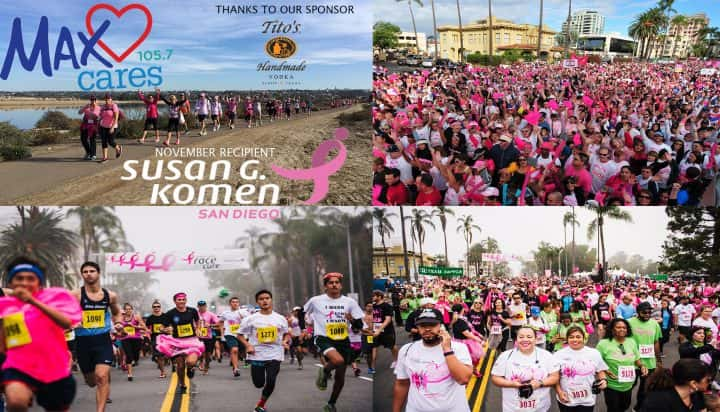 San Diego is an incredible place to live…we all know that. That's because we all work together to take care of this community and each other. As part of that commitment, each month 105-7 MAX-FM will be featuring a local charity that contributes to making this America's Finest City.
We call it MAX CARES – Taking Care of San Diego Together. And we'd like your help!
This month's featured organization is Susan G. Komen San Diego.
VIDEO: Cha Cha chats with President & CEO Shaina Gross about the organization, its mission, and how you can help!
"In San Diego, six women a day are diagnosed with breast cancer and unfortunately one woman a day passes away from this disease. However, we know early detection and effective treatment provide the best chance of survival from breast cancer. And that's what our work at Susan G. Komen San Diego is all about. We are the only organization that studies San Diego County to identify the gaps in breast cancer care and the barriers to health access. We created San Diego's only Breast Health Collaborative to ensure breast health professionals work together to bridge the gaps, identify best practices and provide a unified voice about the unmet needs of San Diego County. Komen San Diego's work is about improving the law, changing systems, removing barriers and most importantly, elevating the women and men directly impacted by breast cancer. Komen San Diego provides free mammograms, biopsies, ultrasounds, care coordination, education and financial assistance for breast cancer patients' most critical needs during treatment. Susan G. Komen is the largest nonprofit funder of breast cancer research outside of the U.S. government. Nearly 40 percent of our research investment is focused on metastatic disease and much of that investment has been awarded to scientists in San Diego."
Click Below to Make a Donation!

NOMINATE A NON-PROFIT
Do you know of a non-profit that would greatly benefit from being a MAX Cares Recipient for one month? Please send nominations to Jenny Rose Gonzalez at jennyrose@bcardio.com.

Video Playback Not Supported <iframe class='wpb_videoplayer video-single-player-iframe' allowfullscreen scrolling='no' width='600′ height='330′ frameborder='0′ src='https://www.1057max.com/wp-content/plugins/wpb-video/wpb-video-embed/wpb-video-embed.php?blogid=169&id=99378&flag_call=singleVideo&playerid=FVfxFvY&player_slug=&chkFlagFrom=meta_insert_video'></iframe> JJ chats with Deacon Jim Vargas, President & CEO of Father Joe's Villages, about the organization, its mission, and how you can help San
Continue Reading »
Comments
comments

Tags: