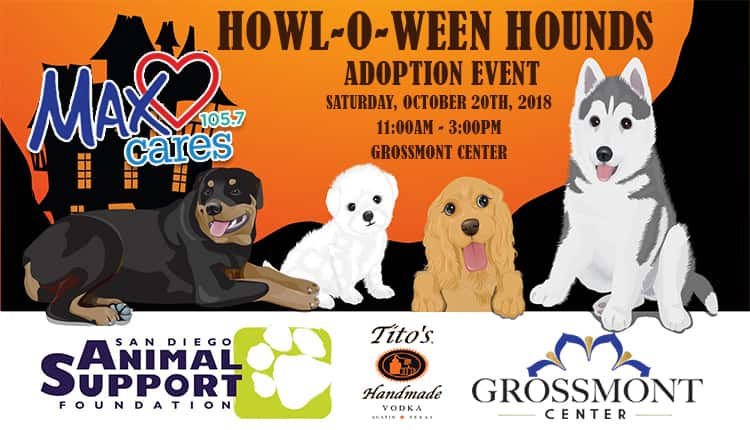 San Diego is an incredible place to live…we all know that. That's because we all work together to take care of this community and each other. As part of that commitment, each month 105-7 MAX-FM will be featuring a local charity that contributes to making this America's Finest City.
We call it MAX CARES – Taking Care of San Diego Together. And we'd like your help!
This month's featured organization is the San Diego Animal Support Foundation.
Join the San Diego Animal Support Foundation at their annual Howl-O-Ween Hounds adoption event on Saturday, October 20th, 11:00 am – 3:00 pm, at Grossmont Center! Featuring hundreds of adoptable pets from dozens of area shelters and rescue centers, the San Diego Animal Support Foundation organizes these annual mega adoption events in order to increase adoptions from reputable shelters and rescue agencies by bringing potential adopters and animals together in one fun, happy, stress-free environment!
For more information, contact the San Diego Animal Support Foundation at Info@SDShelters.org, sdshelters.org or 619-847-8755.
The San Diego Animal Support Foundation is a private, volunteer dependent, nonprofit (501c3) organization dedicated to improving the welfare of animals in overburdened, underfunded local shelters and rescue.
Their mission is to promote the adoption of animals and encourage responsible pet care, by working with the public and a network of respected local animal welfare agencies. Their mission is accomplished via daily TV Adopt-A-Pet Segments, hosting huge multi-organizational adoption events, providing spay/neuter funding to pet owners, maintaining a closely-knit network of approximately 40 local rescue agencies and animal shelters, and working on any projects that ultimately benefit the homeless animals of San Diego. The San Diego Animal Support Foundation receives no government funding or grants, and relies entirely on tax-deductible contributions from private donors to continue our life-saving mission.
Click Below to Make a Donation!

NOMINATE A NON-PROFIT
Do you know of a non-profit that would greatly benefit from being a MAX Cares Recipient for one month? Please send nominations to Jenny Rose Gonzalez at jennyrose@bcardio.com.

San Diego is an incredible place to live…we all know that. That's because we all work together to take care of this community and each other. As part of that commitment, each month 105-7 MAX-FM will be
Continue Reading »